new fillmore east/n.f.e. theatre/village east/villageast/the saint, 1972-1988 (fillmore east, post-bill graham)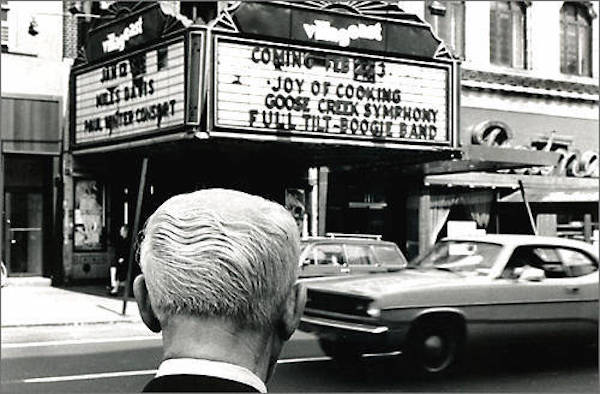 (Photo by John Rosenthal)
Also very much a work in progress!
Originally opened as the Commodore Theatre in 1925-1926, used for Yiddish vaudeville and movies, the auditorium at 105 Second Avenue in Manhattan was most famous as the Fillmore East, which Bill Graham operated from 1968 to 1971. But the room had multiple other lives as a music venue, including the Village Theatre, from 1965-1968.
After Bill Graham closed down the Fillmore East in summer 1971, it sat vacant for barely a year. In July 1972, Frank Morgenstern purchased the building (Billboard, 7/22/72, p. 16), announced plans to open as the Village East, but sold the building by fall, before putting on a single show (Rolling Stone, 10/26/72). From November 1972 until early 1973, shows were booked as Village East/Villageast.
In 1974, the building was purchased by the Brooklyn Yeshiva. Later that year Barry Stuart (aka Barry Stein) reopened the venue as the New Fillmore East, but changed it to N.F.E. Theatre after Graham's disapproval, and shows lasted into early 1975. Several famous bands used it as a practice space, as well. In the '80s, it became one of Manhattan's last pre-AIDS mega-discos, The Saint, with the venue entrance possibly moving to 223 E. 6th Street, and hosted
Please post corrections, comments, memories, etc., or email me at link on the right, including with information about for DJs, light artists, and other performers at The Saint.
Village East/Villageast
November 17, 1972
Virgin, rock opera by Father John O'Reilly (opening)
Following three-city promotional tour (Record World, 11/25/72, p. 27).

December 15, 1972
Bloodrock, Elephant's Memory, Trapeze

Went until dawn, per Billboard. Trapeze has their van and gear stolen (Cash Box, 12/30/72, p. 30).
December 16, 1972
Bloodrock, Foghat, The Fabulous Rhinestones
December 22, 1972
New Groups of the '70s to Rock the Ages
December 23, 1972
New York Dolls, Teenage Lust, Eric Emerson with the Magic Tramps

December 27, 1972
Chuck Berry, Bo Diddley, Estus
December 28, 1972
Steve Miller Band, Seatrain, Speedway Johnny (early show only), Rick Roberts (late show only)
Reviewed in Billboard, 1/20/73, p. 18.
December 30-31, 1972
Roy Buchanan, Crazy Horse, Full Moon, Speedway Johnny (early show, 12/30 only), Rick Roberts (late show, 12/30 only)
Reviewed in New York Times, 1/1/73; in Cash Box, 1/13/73 (p. 24).
January 12-13, 1973
Miles Davis, Paul Winter Consort
In Miles's band: Reggie Lucas, Cedric Lawson, Bala Krishna, Mike Henderson, Badal Roy, Mtume, Al Foster, Dave Liebman. Miles returns to the stage after a car crash in which he broke both legs.
February 2-3, 1973
Joy of Cooking, Goose Creek Symphony, Full Tilt Boogie Band

Photo of marquee by John Rosenthal.
December 26-30, 1973
KISS
KISS rents the Fillmore East to rehearse for their full debut with make-up on December 31st at The Academy. Photos.
January 8, 1974
KISS
KISS plays a promotional event to launch their first album for Casablanca.
New Fillmore East/N.F.E. Theatre
December 7, 1974
Bachman-Turner Overdrive, Bob Seger, David Barretto
re-opening, written up in New York Times
promoted by Barry Stuart
December 31, 1974
Ike and Tina Turner Revue, Quicksilver Messenger Service, Hidden Strength

Reviewed in Billboard (1/25/75, p. 26)
January 14, 1975
Weekly Tuesday talent night begins. Say it lasted for 3 iterations?
January 18, 1975
Roy Buchanan, Thad Jones/Mel Lewis Orchestra, Hydra
Reviewed in Billboard.
January 21, 1975
Talent night
January 29, 1975
Talent night

February 3-9, 1975
Blue Oyster Cult rehearses with full lighting rig.
The Dictators also rehearse there during this period.
February 14, 1975
Papa John Creach, Barnaby Eye (cancelled)
Gossip about cancelled shows in New York Times.
February 20, 1975
Elvin Bishop (cancelled)
February 21, 1975
Deodato (cancelled)
February 22, 1975
Argent (cancelled)
The Saint
1980 DJs: Alan Dodd (opening night, 9/20/80), Robbie Leslie
1981 DJs: Robbie Leslie
March 1, 1984
Grace Jones
March 19, 1986
Spin 1st anniversary party: Red Hot Chili Peppers

May 29, 1986
'60s Ball: Bob Weir, Jorma Kaukonen, Country Joe McDonald, Steve Kimock, Peter Yarrow; Chambers Brothers; Buffy Sainte-Marie (recording)
October 9, 1986
They Might Be Giants
October 31, 1986
Shriekback
August 7, 1987
Dead or Alive
January 15, 1988
Relix 15th anniversary party: The Dinosaurs, Country Joe McDonald, Wavy Gravy (M.C.) (recording)
Jack Casady of Jefferson Airplane/Hot Tuna sat in. Reviewed in New York Times.
January 29, 1988
The Chambers Brothers
Psychedelic Daze Revue
February 19, 1988
Iron Butterfly, Richie Havens, The Vipers
Psychedelic Daze Revue